Pwned Passwords
Pwned Passwords are half a billion real world passwords previously exposed in data breaches.
This exposure makes them unsuitable for ongoing use as they're at much greater risk of being used to take over other accounts.
They're searchable online below as well as being downloadable for use in other online system
This link takes you to a secure checker: https://haveibeenpwned.com/Passwords
Password Managers
If you have a lot of passwords, please use a password manager on your device. You only have to remember ONE password!
A password manager is a software application or hardware that helps a user store and organize passwords. Password managers store passwords encrypted, requiring the user to create a master password: a single, ideally very strong password which grants the user access to their entire password database.

Password managers can sync across all of your Windows, Mac, Android, and iOS devices. A few even let you authenticate on iOS or Android with your fingerprint rather than typing the master password. Most include some form of two-factor authentication, be it biometric, SMS-based, Google Authenticator, or something else entirely.

Passwords can be leaked by:
By sharing of critical password to strangers
By saving the password in plain text format in your local computer or FTP client
Saving the password in browser "Save Password" option in windows IE.
Some devices connected to the internet can be compromised by social engineering phishing emails - the resultant Virus is then use to extract saved passwords.
Major security breach like Yahoo, LinkedIn, DropBox. Literally 100 of thousands of Hash Tag Passwords leaked on to the internet. To see how easy it is to unscramble (crack) these passwords watch the videon on the right.
ON LINE LOGINS
Critical logins - on line banking need two factor authentication and use the Password Manager to generate a random password.
Do NOT use the same password for everything
Use the password manager to generate random passwords for each of your Email, Forums and any other on line logins
Password Manager Programs for you to use
RoboForm - Free Desktop - Sync multi Devices - $US19.99pa:: Go to Site
Dashlane 4 - Free Desktop - Sync 5 Devices - $US39.99pa:: Go to Site
LastPass 4.0 FREE Sync multi Devices Mac,PC,Tablets and Phones :: Go to Site
1Password - Mac - Sync multi Devices - $US3pmonth. :: Go to Site
You only have to remember ONE password!
The Password Manager will fill in ALL your forms.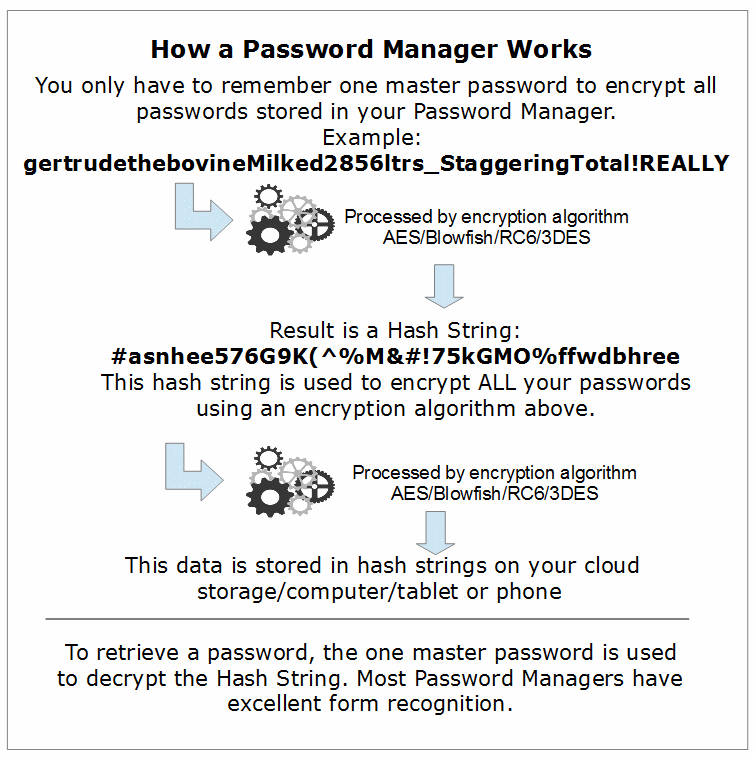 Short, simple Password Hashtags can be cracked:
How to choose a Password
---
Most Common BAD Passwords (English)
#1 123456
#2 password
#3 123456789
#4 12345678
#5 12345
#6 111111
#7 1234567
#8 sunshine
#9 qwerty
#10 iloveyou
#11 princess
#12 admin
#13 welcome
#14 666666
#15 abc123
#16 football
#17 123123
#18 monkey
#19 654321
#20 !@#$%^&*
#21 charlie
#22 aa123456
#23 donald
#24 password1
#25 qwerty123
#26 zxcvbnm
#27 121212
#28 bailey
#29 freedom
#30 shadow
#31 passw0rd
#32 baseball
#33 buster
#34 daniel
#35 hannah
#36 thomas
#37 summer
#38 george
#39 harley
#40 222222
#41 jessica
#42 ginger
#43 letmein
#44 abcdef
#45 solo
#46 jordan
#47 55555
#48 tigger
#49 joshua